With the advent of the Internet and social media, choosing the right marketing channel to distribute your message to your target audience and create a stronger relationship with them is now more complicated. With all these choices, what's important is to focus on selecting the right media channels for your customer base … both online and offline.
Last week, I had the opportunity to participate in a webinar with Liz Miller, SVP of Marketing from the CMO Council. She shared findings from a recent study done by the CMO Council in partnership with Pitney Bowes titled "Critical Channels of Choice." The study surveyed 2,000 consumers across five generations (Gen Z, Millennial, Gen X, Baby Boomers, and the Silent Generation).
According to Miller, "Everyone assumes that Millennials and Gen Zers are all digital and that is the best way, and in some instances the only way, to communicate with them. The most critical finding from the study indicated that the channel of choice was in fact, omnichannel." Consumers expect a seamless shopping experience, whether they're shopping online from a desktop or mobile device, by telephone, or in a brick and mortar store location.
When asked to describe their communication preferences, consumers overwhelmingly agreed that one path to the brand simply isn't enough … they want them all. Some 85% of consumers surveyed agreed that their ideal channel is actually a blend of channels, opting for a mix of both digital and physical experiences (Figure 1).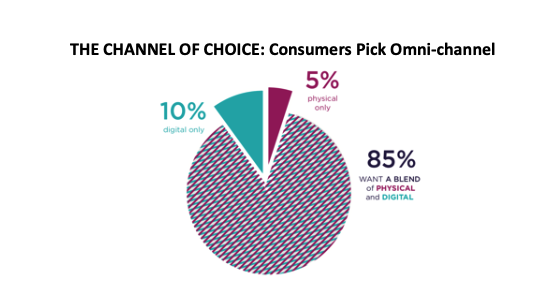 Miller explained that print is alive and well. She said, "Perhaps most telling of this openness for omnichannel is that printed mail, considered by some to be one of the more 'traditional' channels in today's marketing mix, is essential. It continues to be a highly valued channel of choice. One out of every three consumers surveyed expected printed mail to be part of their ideal communications mix. Brands need to reevaluate how they are leveraging and deploying all of the tools available in an omnichannel toolkit."
While you might expect a divide across generations in terms of channel preferences, that isn't the case. The research found that all respondents, regardless of age demographic, prefer a blend of digital and physical channels to pave their communications journey with a brand (Figure 2).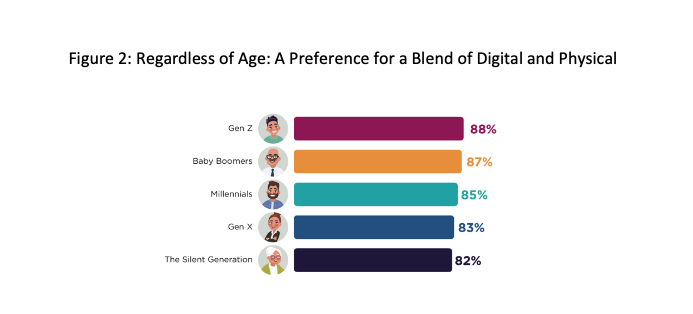 The study also pointed out that the deciding factors for channel usage by consumers include convenience, reliability, speed, personalization, and trust (Figure 3). Whether it is print, social media, or email, consumers are looking for channels that meet their expectations.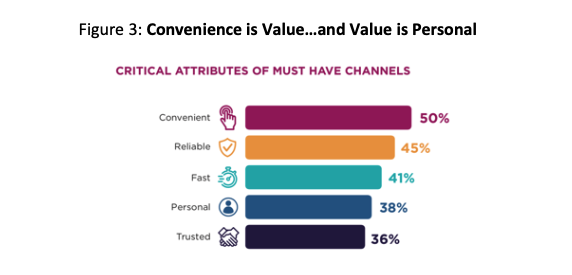 The Bottom Line
Given the drive for a seamless omnichannel experience, your customers will be looking for partners to help deliver the solutions consumers want. Print will continue to be integral to the marketing mix, but your offerings will need to be blended with social, mobile, and online channels, as well as brick and mortar point of purchase solutions. Service providers need to evaluate the role they want to play in an omnichannel world.